Automated Access Systems
FAAC is the world's leading designer, manufacturer and supplier of access automation systems, with over 40 years' experience and thousands of systems installed.
FAAC's product range encompasses standard and bespoke system elements, controllers and operators for automating commercial, residential and industrial gates and doors.
This includes remotely activated garage doors, employee access control systems for offices and factories and complete parking control solutions. All FAAC products are manufactured to the ISO 9001 quality standard and are renowned for their durability and reliability
DOOR OPERATORS
950 swing door operator
Low Voltage electro-mechanical operator for swing doors
950 BM - door closing automation with spring system
950 BSM - door closing automation with spring-less motorised system
Stylish design
The 950 BM and 950 BSM can be installed either on the door lintel or on the door itself. The housings innovative shape and considerable styling impact, added to an anodised metal type surface finish, make it very special. Due to the shape of the housing, a detection sensor (radar or passive infra-red) can be installed inside.
Quiet operation with intelligence
The operator works in harmony with its transmission arm providing near silent operation.
With the 950 MPS and 950 I/O (input/output board), intelligent control is assured; a microprocessor provides real-time control of all the door's activities, and an encoder detects the angular position at all times. You can select the operation logic (automatic, manual, night, open) with a selector built in to the automated system.
Reliable and safe
The product is sturdy, reliable and above all, safe. In compliance with current safety regulations, speed and force are programmed according to the door's dimensions. If the door meets an obstacle, it re-opens immediately and, when it closes the next time, it verifies clearance of the obstacle at slow speed.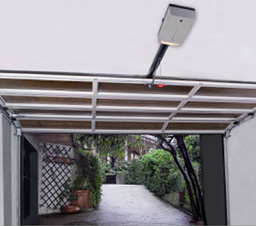 DOOR OPERATORS
D600 garage door operator
For spring, counterbalanced up-and-over doors and sectional doors for residential (D600) and light commercial use (D1000)
Versatility
The D600 and D1000 operators are electromechanical devices using 24 Vdc motors, that can be used in sectional, spring balanced and, with the proper adaptor, in counter-weighted garage doors.
Quick and easy to install
The nylon base makes the operator lighter and with better handling compared to metal. FAAC has developed a patented head-rail connection. The operator can be mounted on the rail support without installation tools, a simple rotation to engage 4 supports of the plate and a pin to prevent unfastening. Installation time has been reduced by 40% on previous models.
Maximum safety
The electronic anti-crushing device adjusts itself automatically at Set Up. the operator keeps the tripping threshold constantly at minimum level, and adapts at all times to the differences in force required to move the door The device stops the door movement as it opens and reverses it at closing.
Electronic speed control
To protect the door against mechanical stress as the movement begins, an electronic control gradually increases the speed of the operator (Soft Start). Deceleration, both at opening and closing cycle of the door, (Soft Stop).
UNDERGROUND OPERATORS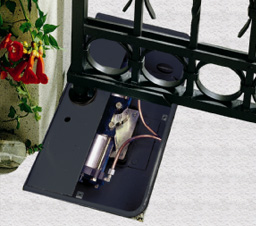 750 CP operator
The 750 CP system for swing gates utilises a load bearing foundation box with single-leaf max weight of 800kg
Versatile Hydraulic system
The FAAC 750 system is made up of a drive unit installed under the gate and a hydraulic pump unit mounted above ground inside the property, suitable for gates up to 3.5m in width. Drive units are available at an opening angle of 100o and 180o and pumps with or without hydraulic locking.
Powerful and mechanically efficient
The whole 750 range can easily automate gates with leaves weighing up to 800 kg each. The system consists of a sturdy, compact, underground drive unit, and a hydraulic pump unit available in two different models. All components are integrated in a hydraulic circuit providing continuous lubrication and cooling.
Safe both inside and out
The exclusive hydraulic device, ensuring maximum anti-crushing protection, features two highly sensitive by-pass valves. In case of an emergency, a key-protected release device in an easy-to-access position, makes it possible to operate the gate manually. The CBAC version has hydraulic locking to hold the gates in a fixed position in both open and closed positions.
Constant performance throughout time
Reliability is assured under all atmospheric conditions and at extreme temperatures in the range - 40oC to +55oC. The FAAC hydraulic device requires very little maintenance and is low on electrical power consumption.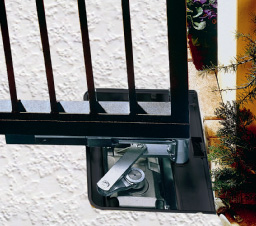 UNDERGROUND OPERATORS
770 operator
For residential swing-leaf gates with single-leaf of 2.5m and max weight of 500kg
A new technological threshold
The FAAC underground system is the new way of opening and closing residential gates with leaves of up to 2.5 metres in length. As it is installed below the surface, it does not change the appearance of the gate.
Electronic safety
Anti-crushing protection is ensured by an electronic device installed on the control board, which directly controls drive torque. In case of emergency, manual operation is assured by a special lever release system with customised key, accessible from both inside and outside.
Total efficiency
The FAAC 770 model design includes a casing to house automated systems for gates of up to 500kg per leaf, making installation simple. Corrosion-proof coating highly resistant to atmospheric agents, absolute weather -proofing, operator in protection class IP 67 all these are plus points in addition to the undoubted advantages of long life and safety assured by FAAC's electro-mechanical technology.
Low maintenance
When maintenance is necessary the operator can be simply removed from the foundation box without removing the gate leaf.